We awarded the third KJO Memorial Scholarship of 2021 to Amanda Schwarz of Riverside Brookfield HS.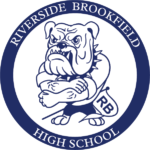 The value of this scholarship is $2,500 annually, renewable for 4 years. All recipients must maintain a B average in college.

As shown above Amanda with her father receiving the KJO Memorial Scholarship at the O'Laughlin's home.

Amanda will attend the Illinois Wesleyan University in the fall.
Sports and Activities in High School:
Amanda swam and played water polo for four years. Amanda was named water polo player of the week for the first week of May 2021. Amanda's water polo team made it to the IL State sectional finals before a tough loss to Mother McAuley.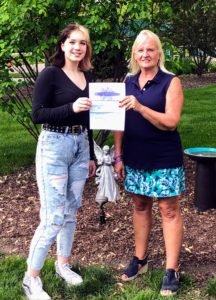 Highlights from the Essay:
In her essay, Amanda wrote about her mission trip to St. Louis the summer of her Junior year.  She wrote: "I specifically remember one girl that stayed with me the entire time at the school we were visiting. She stayed by my side no matter what happened, gathering more and more kids to join us to play different games. Tag, hide and seek, we played every game possible in the span of time that we had. She came up to me when it was time to leave, thanking me for spending so much time with her. She told me that she didn't get that kind of attention very often, that she was grateful for all the time I spent with her. This mature gesture from such a young child inspired me to seek out other opportunities where I could make an impact within the community. The ability to change lives and cause events that would be remembered by individuals changed my way of thinking. Not only was the mission trip an event that would help others, but by putting effort into the different activities I could make a dramatic difference in the lives of others."
Highlights from the Recommendations:
Her English teacher wrote: "Amanda is able to recognize when someone is in need and then works to support that person. Amanda went out of her way to reach out to a peer who was struggling and offered to work through the journal conference process so the student wasn't as flummoxed. Amanda encouraged this student to meet with her to prepare and practice the journal conference presentation. Without Amanda's nudging, this student would have chosen to fail. After Amanda's intervention, the student chose to participate more in class discussions and was more engaged with her coursework. While it was not a big deal for Amanda to help out, the student received an enormous boost from Amanda's influence."
Her water polo coach described her this way:  "I have never had an athlete that carries herself with the polished work ethic and level of respect Amanda exudes as a high school student. She is the person I want my own daughter to emulate. Although Amanda has a bunch of talent in swimming and water polo, her most impressive attribute as an athlete is her ability and desire to be the ultimate teammate. Her teammates are her top priority. She will do anything to help them."
We are so happy to welcome Amanda to the family of KJO Memorial Scholarship Recipients!  Congratulations!