We awarded the fourth KJO Memorial Scholarship of 2021 to Sara Jayne (SJ) Weidner of Nazareth Academy.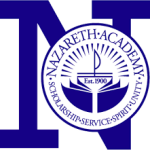 The value of this scholarship is $2,500 annually, renewable for 4 years. All recipients must maintain a B average in college.

As shown above Sara with her parents receiving the KJO Memorial Scholarship at the O'Laughlin's home.

SJ will attend the Miami University of Ohio in the fall.
Sports and Activities in High School:
SJ played tennis for four years. Senior year she was named varsity captain of the tennis team. In addition, she served as a class board representative and elected executive council member for four years.
Highlights from the Essay:
SJ writes about where she first learned her love of tennis and some other surprising lessons on the tennis court.  She says: "The summer going into sixth grade was my first year playing at Hinsdale Central's summer tennis camp. As a little middle school girl arriving at this camp with no friends and limited experience, I was terrified, intimidated, and embarrassed. However, as I started to go to the camp year after year, the high school players and my coaches quickly became my role models and biggest supporters. Because of their demonstrated compassion and care, they not only made me become a stronger tennis player, but they also taught me what it means to be an inspiration and helping hand to others."
Highlights from the Recommendations:
The recommendation from a teacher describes her: " She is not a teenager wrapped up in her own world, rather she is always aware of how others are thinking or feeling and she is conscious of how her words and actions impact others".  For our scholarship, compassion for others is one of our guiding principles as this reminds us of how Kelli lived her short life.  Her concern for others came through loud and clear in our interview with her.
SJ's tennis coach wrote a book signing her praises.  One quote describes her attitude on and off the court, SJ's tennis coach says: "SJ was selected as the ESCC Conference Doubles Team of the Year two years in a row, with two different partners. And both years she and her partners finished 2nd in the conference. So, you wonder why were they selected as the team of the year by the coaches? My guess is because of the grit and determination that was displayed while exemplifying tremendous sportsmanship to each other and their opponents, throughout the entire season. Both years, SJ and her partners battled through tough matches…and whether it was a victory or a defeat, SJ was gracious, kind-hearted, and humble." 
Finally, her tennis coach wrote: "SJ is the real deal – kind, adapts well to new challenges and has a positive attitude that will serve her well as she moves on from high school (tennis).  We put the tennis in parenthesizes as it was too limiting. 
The Kelli Joy O'Laughlin Memorial Foundation salutes SJ and welcomes her as the newest member of the KJO Memorial Scholars.
Congratulations SJ!